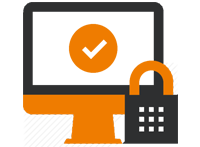 In our time, networks are a critical factor for the proper operation and high productivity of a company, their high availability is now essential in every activity.
Technology has changed the way we all work, remote work is now a necessity and the implementation of secure access solutions is our priority. Organizations of all types face the challenge of providing secure, flexible, and fast communication.
In a world where Internet access and data have become a necessity for every business, the application of new technologies to achieve a secure connection and high performance is something that is worth investing in.
Our many years of experience in wireless and wired communications, the quality of our services combined with the appropriate equipment from reputable manufacturers, allows us to provide complete solutions that cover every need, small or large, from wireless remote point connections to complex wireless networks. VPN solutions and firewalls with secure encryption protocols that ensure the protection of your personal data and the reliability of communication.